Ano ko no Yume wo Mitan Desu (2020) Episode 1-12 END Subtitle Indonesia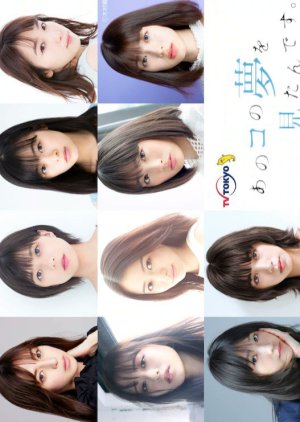 Download Ano ko no Yume wo Mitan Desu (2020) Subtitle Indonesia
Streaming, Nonton Ano ko no Yume wo Mitan Desu (2020) Sub indo
Download 360p 480p 720p GoogleDrive
Details Ano ko no Yume wo Mitan Desu (2020)
Native Title: あのコの夢を見たんです
Also Known As: I Had a Dream of That Girl , I Dreamed of That Girl
Thanks for RDF
Info Video: Doramaindo.id
720p MP4 (HARDSUB INDO) 480p MP4 (HARDSUB INDO) 360p MP4 (HARDSUB INDO)
Download Batch Ano ko no Yume wo Mitan Desu (2020) Sub Indo
---
Ano ko no Yume wo Mitan Desu (2020) Sub Indo
"Aku Ingin Mengejarnya!"
Gadis SMA yang tak tertahankan, Nakajo Ayami. Dia lelah menjalani kehidupan dengan pengakuan terus-menerus dan memiliki keinginan untuk ditolak hanya sekali. Suatu hari, dia menerima email misterius yang mengatakan bahwa dia telah ditolak …
"Dan Lalu Ada Legenda"
Tiga puluh tahun setelah Raja Iblis yang menguasai dunia dihancurkan. Seorang perawat yang bekerja di sebuah klinik dengan salah satu Ksatria Cahaya, Yamazato, yang telah pensiun dari tugas aktif. Berita tentang kebangkitan Raja Iblis tiba … dan dengan kejadian yang aneh, Yoshine Kyoko menjadi pahlawan.
"The Invisible Person" Dibintangi: Nana Mori
Ini adalah cerita asli bukan dari buku. Kata kunci dari cerita ini adalah bahwa dia adalah "pahlawan wanita yang tidak bersalah".
"Hangatnya Air Mata Itu"
Marie Iitoyo gagal mengaku pada pria yang dicintainya. Saat dia di rumah menyesali keputusannya, seorang pria kecil muncul di kamarnya dan memberinya sesuatu yang disebut "tombol reset". Marie menekan tombol itu dengan ketakutan, tapi …
"Fusen Gum"
Sakurako Ohara, peri yang selalu mengunyah permen karet fusen. Tiba-tiba, dia muncul di depan penduduk desa pegunungan, mengembuskan permen karet dan membukanya … dan memiliki kemampuan luar biasa untuk meringankan emosi hitam penduduk desa pegunungan dengan senyuman lembut ….
"Sabuk hitam-chan dan Glass-kun"
Maika Yamamoto, seorang gadis karate jenius. Tiba-tiba mengungkapkan perasaannya kepada Yamazato, dia berjanji kepadanya bahwa jika dia bisa mengambil sapu tangannya darinya, dia bisa pergi bersamanya. Pertarungan panjang antara Maika dan Yamazato dimulai …!
"Perang Sekolah Kecil"
Empat anak laki-laki, yang dikenal sebagai "Empat Kegelapan," berkumpul bersama untuk bersenang-senang membicarakan hal buruk tentang orang lain. Karen Otomo, manajer klub sepak bola, selalu memperlakukan mereka dengan setara. Mereka tidak senang dengannya, & mereka punya rencana untuk melakukan sesuatu …
The Other Side of Jealousy (Judul tentatif) Dibintangi: Sei Shiraishi
Ini adalah cerita asli bukan dari buku. Kata kuncinya adalah "Cemburu".
"See You Tomorrow" Dibintangi: Riho Sayashi
Ini adalah cerita asli bukan dari buku. Kata kunci dalam cerita ini adalah "pertemuan seiring waktu".
"The Dark Eaters"
Para "Pelahap Gelap" telah membawa kedamaian bagi dunia dengan menghilangkan kegelapan yang memenuhi hati manusia. Satu dari 9 orang yang tersisa di dunia dengan kemampuan khusus, Elaiza Ikeda, muncul di hadapan Yama "kelahiran gelap", yang memberi orang kegelapan …
Status : Ongoing
Type : J-Drama
Seasons : 2020
Genre : Drama, Fantasy, Mystery, Romance
BATCH E01-E12 END
Episode 1 | Fansubs RDF
Episode 2 | Fansubs RDF
Episode 3 | Fansubs RDF
Episode 4 | Fansubs RDF
Episode 5 | Fansubs RDF
Episode 6 | Fansubs RDF
Episode 7 | Fansubs RDF
Episode 8 | Fansubs RDF
Episode 9 | Skipped
Episode 10 | Fansubs IKAZA
Episode 11 | Fansubs IKAZA
Episode 12 END | Fansubs IKAZA
Keyword