Romance is a Bonus Book Episode 1-16 END Subtitle Indonesia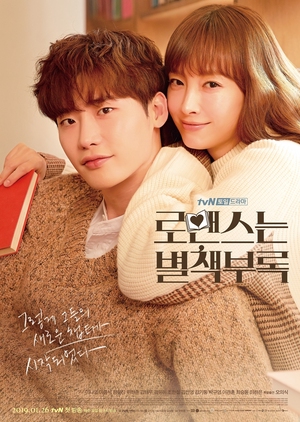 Download Romance is a Bonus Book Subtitle Indonesia
Streaming, Nonton Romance is a Bonus Book Sub indo
Download 540p 480p 360p GoogleDrive
Native Title: 로맨스는 별책부록 Also Known As: Romaenseuneun Byulchaekboorok , Romance Is a Supplement , Romance Supplement , How To Publish Love?
Production Credits Production Company: Studio Dragon Director: Lee Jung Hyo Screenwriter: Jung Hyun Jung
Daftar Pemain Drama Romance Is a Bonus Book
Main Cast
Lee Na Young as Kang Dan Yi (37) Lee Jong Suk as Cha Eun Ho (32) Jung Yoo Jin as Song Hae Rin (29) Wi Ha Joon as Ji Seo Joon (29)
Book publishing people
Kim Tae Woo as Kim Jae Min (44) Kim Yoo Mi as Ko Yoo Sun (40) Jo Han Chul as Bong Ji Hong (45) Kim Sun Young as Seo Young Ah (37) Kang Ki Doong (강기둥) as Park Hoon (27) Park Gyu Young as Oh Ji Yool (27) Lee Kwan Hoon as Lee Seung Jin (40) Choi Seung Yoon (최승윤) as Bae Kwang Soo (36) Lee Ha Eun (이하은) as Chae Song Yi (29)
People around Kang Dan Yi
Oh Ui Shik as Hong Dong Min (40) (Dan Yi's ex-husband) cameo Lee Ji Won as Hong Jae Hee (12) (Dan Yi's daughter)
Download Drama Korea Romance Is a Bonus Book / Romance Is a Supplement
---
Romance is a Bonus Book Sub Indo
Sinopsis Romance is a Bonus Book (2019)
Romance Is a Bonus Book menceritakan tentang kisah orang dewasa berusia 30-an yang terlibat kisah asmara. Keduanya bekerja di dunia penerbitan.
Seorang penulis hebat dan merupakan pemimpin redaksi di perusahaannya, Cha Eun Ho (Lee Jong Suk) terkenal sebagai orang yang jenius, pintar, dan tampan. Meskipun dirinya sering marah di tempat kerja, akan tetapi dia memiliki hati yang hangat dan kepribadian yang baik.
Sementara, wanita bernama Kang Dan Yi (Lee Na Young) dulunya merupakan seorang copywriterterkenal, namun kini dia bangkrut dan menjadi pengangguran. Berkali-kali mencari pekerjaan, namun Kang Dan Yi tak kunjung mendapatkan pekerjaan. Akhirnya suatu ketika, Kang Dan Yi diterima diperusahaan penerbitan Cha Eun Ho dengan berbohong soal latar belakangnya. Dari situlah Cha Eun Ho Kang dan Kang Dan Yi mulai tertarik satu sama lain.
Notes:
1. Sama Seperti Drama Mr. Sunshine, Memories of the Alhambra (tvN) & Life (JTBC). Drama Romance Is a Bonus Book, tayang eksklusif di Situs Resmi Netflix dan ditayangkan di 190 negara melalui Situs Resmi Netflix dengan 29 Subtitle, diantaranya Subtitle English, Indonesian, Arabic, Chinese, Danish, Dutch, Finnish, French, German, Greek, Hebrew, Italian, Japanese, Norwegian, Polish, Portuguese, Romanian, Spanish, Swedish, Thai, Turkish, Vietnamese.
Status : Finished
Episode : 16
Rating : 9.6
Type : K-Drama
Seasons : 2019
Genre : Comedy, Drama, Life, Romance
Keyword