The Banker Episode 1-32 END Subtitle Indonesia
Doramaindo
9th Desember 2020, 1816 |
Series:
The Banker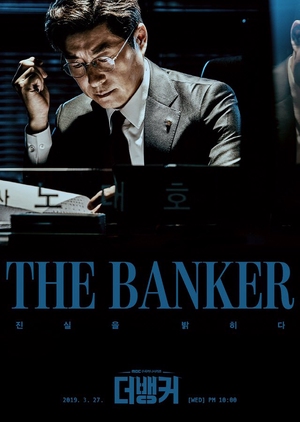 Download Drama The Banker Subtitle Indonesia
Streaming, Nonton The Banker Sub indo
Download 540p 480p 360p GoogleDrive
Native Title: 더 뱅커 Also Known As: deo baengkeo
Production Credits Production Company: MBC Drama Production Director: Lee Jae Jin Original writing: Shuu Ryouka (周良貨) Screenwriters: Seo Eun Jung (서은정), Oh Hye Ran (오혜란), Bae Sang Wook (배상욱)
Daftar Pemain Drama The Banker
Main Cast
Kim Sang Joong as Noh Dae Ho Chae Si Ra as Han Soo Ji Yoo Dong Geun as Kang Sam Do Kim Tae Woo as Lee Hae Kon
Auditor's Office staff
Ahn Woo Yeon as Seo Bo Gul Shin Do Hyun as Jang Mi Ho Cha In Ha as Moon Hong Joo Kim Kyu Chul as Park Kwang Soo Kim Byung Choon as Han Min Koo Lee Yoon Sang (이윤상) as Jo Young Shik
Bank employees
Ahn Nae Sang as Yook Kwan Shik Seo Yi Sook as Do Jung Ja Joo Suk Jae (주석재) as Im Chang Jae Oh Yong as Min Hyung Ki Jung Kyung Ho as Byun Sung Tae Jung Hyung Suk (정형석) as Sung Chi Wook Im Seung Dae as Kim Young Ho
People around Kang Sam Do
Kim Young Pil as Secretary Kim Go In Bum as Jung Soo Chan Kim Byung Gi as Choi Jong Soo Nam Myung Ryul as Park Jin Ho
Others
Park Jung Hak as Bae Dong Suk Ryu Sung Hyun (류성현) as Park Jung Bae Park Seo Yeon as Noh Han Sol Choi Yang Rak (최양락)
Download Drama Korea The Banker
---
The Banker Sub Indo
Sinopsis Drama Korea The Banker
The Banker bercerita tentang Noh Dae Ho (Kim Sang Joong) yang merupakan seorang pria jujur dan tulus. Dirinya bekerja di sebuah Bank Daehan sebagai manajer cabang. Perusahaannya tersebut terletak di sebuah kota kecil.
Noh Dae Ho dipromosikan menjadi seorang auditor di kantor pusat Bank yang terletak di Seoul. Disana ia harus menghadapi korupsi yang terjadi di sebuah bank pusat.
Notes: Serial drama ini merupakan Remake berdasarkan cerita asli dari manga series "Kansayaku Nozaki Shuhei" by Ryouka Shuu (writer) & Shigeru Noda (illustrator) (published from 1998 to 2002 in magazine Manga Allman).
Sebelumnya Manga series Kansayaku Nozaki Shuhei di tahun 20018 di buat menjadi Drama Jepang dengan judul Nozaki Shuhei Auditor of Bank (Kansayaku Nozaki Shuhei).
Status : Ongoing
Episode : 32
Rating : 8.3
Type : K-Drama
Seasons : 2019
Genre : Business, Drama, Political
Keyword