The Player Episode 1-14 END Subtitle Indonesia
Doramaindo
7th Desember 2020, 6870 |
Series:
The Player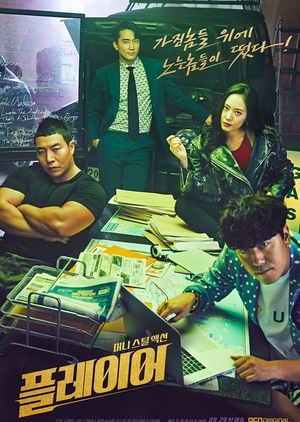 Download The Player Subtitle Indonesia
Streaming, Nonton The Player Sub indo
Download 540p 480p 360p GoogleDrive
Production Credits
Production Company: iWill Media
Director: Go Jae Hyun (고재현)
Screenwriter: Shin Jae Hyung (신재형)
Daftar Pemain Drama The Player
Main Cast
Song Seung Hun as Kang Ha Ri
Krystal Jung as Cha Ah Ryung
Lee Shi Un as Im Byung Min
Tae Won Suk (태원석) as Do Jin Woong
People around Kang Ha Ri
?? as Choi Hyun Ki (prosecutor)
?? as Choo Yun Hee (doctor)
Prosecution
Kim Won Hae as Jang In Kyu (prosecutor)
Ahn Se Ho (안세호) as section chief Maeng
Lee Hwang Ui as Yoo Ki Hoon
The Targets
?? as that person
Kwak Ja Hyung (곽자형) as Cha Dong Sup
Others
Min Joon Hyun as Shim Dal Soo
Kim Hyung Mook as Na Won Hak
Cameo
Hong Suk Chun
Yoo Seung-ho
Download Drama Korea The Player
---
The Player Sub Indo
Sinopsis Drama Korea The Player
The Player bercerita tentang empat orang yang terdiri dari penipu, petarung, peretas, dan pengemudi bekerja sama dalam satu tim elit untuk memecahkan masalah kriminal. Keempat tokoh ini sangat ahli di bidangnya masing-masing.
Status : Finished
Episode : 14
Type : K-Drama
Seasons : 2018
Keyword